Services • Dr. Man-Yin Lau, O.D. • Payment and Insurance Information

Whether you need to evaluate a potential eye problem, or just come in for a routine checkup, Dr. Lau and the optometrists at Globe Optical can help. Call (206) 622-7002, or use our online form to schedule an appointment at Globe Optical.
Comprehensive eye exam: A comprehensive eye exam will evaluate not only how well you see, but also identify potential eye diseases such as cataracts, glaucoma, and macular degeneration. Some eye diseases can result in serious vision loss if not detected and treated early. Often patients with these diseases don´t experience any visual symptoms before vision loss occurs. If you are over 35, you should have a comprehensive eye exam at least every two years. Patients over 65 or with a family history of glaucoma, diabetes, or diabetic retinopathy should have a yearly eye exam.
Contact Lens Evaluation: A contact lens evaluation is needed to determine the best fit, prescription and brand for each individual.  A contact lens evaluation can be done anytime within the first 6 months after the initial comprehensive eye exam.  
Pre/Post Lasik Exams and referral: Special testing may be needed to determine if you are a good candidate for LASIK.  This includes initial exam and up to 6 months of follow up visits.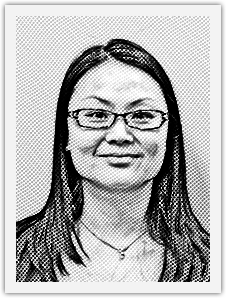 Dr. Lau was born in Hong Kong and raised in Windsor, Ontario Canada. She received a Bachelor in Science with a major in Biology from the University of Windsor and graduated from the Illinois College of Optometry in 2002.
She received additional training through externships at Kresge Eye Institute in Detroit and at Veterans hospitals in Connecticut and Walla Walla. Dr. Lau practices primary care with an interest in contact lens fitting.
We accept cash, Visa, Mastercard and Money Order. Discounts available to the non-insured for eye exams and eyeglasses. Please contact us for further details.
Insurance
We are preferred providers for VSP, Regence Blueshield, Premera BlueCross, Aetna, Uniform Medical, UMR, United Healthcare, GreatWest, First Choice, Medicare and Medicaid.