To Our Valued Patients:
Our office is now open for routine care. We appreciate all our patients, neighbors, and friends who have supported us throughout this pandemic.>
While many things have changed, one thing has remained the same: Our commitment to providing excellent care in a safe environment. Infection control has always been a top priority for our practice. Our office follows infection control recommendations made by the American Optometric Association (AOA) and the U.S. Centers for Disease Control and Prevention (CDC). All customers entering the store are required to have a mask on properly.
Your temperature will be taken upon entering the office and recorded in your records. If you have a temperature higher than 100°F, you will be asked to reschedule your appointment. You will be asked to use hand sanitizer when entering and exiting the office. There will be hand sanitizer available throughout the office. You may also be asked to wash your hands before beginning your exam.
There are measures in place to help facilitate patient flow in and out of the office. We are managing appointments to allow for social distancing between patients. We are allowing greater time between patients to reduce the number of patients in the waiting room and to sanitize the office between patients.
We ask that additional family members who do not have an appointment either stay at home or in the car if able. If you have a child scheduled for an appointment, we ask that only one parent or guardian accompanies them.>
Thank you!
You can find us at
2008 5th Ave Seattle, WA 98121
(5th & Virginia)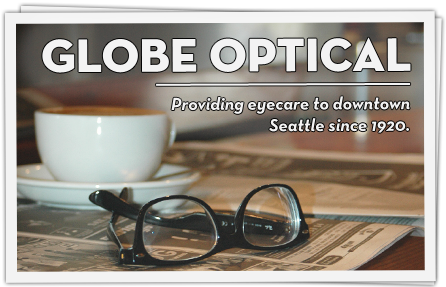 Explore hundreds of frames, sunglasses, children's glasses and sport/safety goggles in a wide range of prices.
find out more...

Come in and choose from our selection of contact lenses. Our staff will help you wade through the options and find the perfect fit for your eyes.
find out more...

A comprehensive eye exam will evaluate not only how well you see, but is a preventative solution to many eye problems.
find out more...
Payment Information
We accept cash, Visa, Mastercard and Money Order. Discounts available to the non-insured for eye exams and eyeglasses. Please contact us for further details.
Insurance
We are preferred providers for VSP, Regence Blueshield, Premera BlueCross, Aetna, Uniform Medical, UMR, United Healthcare, GreatWest, First Choice, Medicare and Medicaid.